ORIGINAL OIL PAINTINGS

View a selection of my oil paintings
LIMITED EDITION PRINTS

View my selection of Prints
ORIGINAL OIL PAINTINGS
View a selection of my oil paintings
LIMITED EDITION PRINTS
View my selection of Prints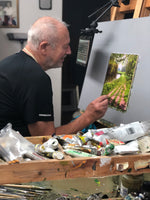 Welcome to my website
I was born in the UK , in 1949 and was strongly influenced by the artistic talents of my paternal grandfather, a larger-than-life character. Grandad earned a living in his youth as a bare fist pugilist.  He also sailed the world on ocean-going liners as a printer, producing menus and other shipboard paraphernalia. He was a keen amateur artist and taught me not only to defend myself but  also how to wield a paintbrush.
My voyages into the countryside during school holidays were where I first became aware of its beauty, the undulating mountains, tree-laden valleys, fast flowing rivers and quiet twinkling streams.
"David's captivating paintings profoundly echo his love of the British countryside. This is fully demonstrated by his exceptional mastery of light and colour. David's meticulous paintings leave a lasting impression with art lovers and distinguished fine art collectors throughout Europe, Australia, Thailand, Saudi Arabia, North America and Pacific Rim."
David Arnold, Gallery Owner